Thompson welcomes Leonard Shinhoster as new VP of Residential Services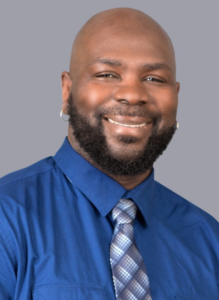 CHARLOTTE, North Carolina – Thompson Child & Family Focus welcomes its newest Vice President of Residential Services, Leonard Shinhoster, who has previously worked for Thompson, and now returns to the organization in a leadership role.
Shinhoster started his career here at Thompson in 1995, leaving in 2001 to Alexander Youth Network, where he was employed for 21 years. Over that time, he built up a vast array of healthcare experience in multiple settings, including hospitals, psychiatric facilities, day treatment programs, and the department of Juvenile Justice.
Before becoming Vice President of Residential services at Alexander Youth Network, he started his career as a Behavioral Health Counselor, transitioned to a Special Education teacher and was eventually promoted to Supervisor and then Executive Director.
Leonard has fully dedicated his career to serving underserved youth and takes pride in ensuring quality behavioral healthcare to children.
Shinhoster maintains his Professional Educators license. He is also a Therapeutic Crisis intervention trainer and has been certified for 12 years. He received his BA in Sociology from Queens University.
In Mr. Shinhoster's role as Vice President of Residential Services, he looks forward to build off of the great work being done at Thompson, leading the organization into a thriving future, impacting the community through our residential programs.
About Thompson
Headquartered in Matthews, North Carolina (Mecklenburg County), Thompson Child & Family Focus is a human services leader transforming lives through early childhood, family stability, and mental health services. As a solutions-driven organization committed to rewriting narratives for the most vulnerable in our community; Thompson achieves this by providing comprehensive, evidence-based services, and trauma-informed care, for children (ages 0-18) and their families, virtually and in-person. Thompson employs over 270 staff across several locations in Matthews, Charlotte, Arden, and Wilmington, NC, and is led by President/CEO, Will Jones.
To read more about Thompson's continuum of services online, go to thompsoncff.org, or email news@thompsoncff.org.