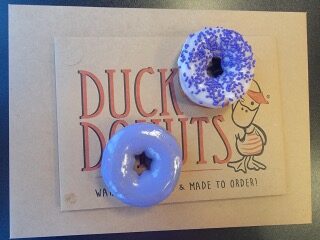 Duck Donuts launches Specialty Treat to Fight Homelessness
CHARLOTTE, North Carolina – Known for its warm, made-to-order doughnuts, Duck Donuts' latest custom treat is satisfying your sweet tooth and supporting children and families experiencing homelessness in Charlotte. Customers can visit Mecklenburg County locations – Huntersville or Dilworth – to buy special purple icing doughnuts through the end of January, with a portion of the sales benefiting Thompson Child & Family Focus.
"It is important for us to get to know our neighbors and become a resource by supporting the causes that they benefit from," said Andre Walters, franchise co-owner of the participating Duck Donuts shops. "In partnering with Thompson, we get the opportunity to help ensure children are able to thrive while raising awareness for their cause."
The company's Quack Gives Back program partners with community organizations to raise awareness and funds for their causes. Thompson is a Charlotte-based nonprofit that provides clinical and prevention-based care for children and families across the Carolinas, including programs such as A Child's Place and onsite facilities that house children and teens. Local owners plan to partner with several Charlotte-area nonprofits this year for other Quack Gives Back initiatives.
"We are so grateful and appreciative for the support of Duck Donuts," said Emily Smith, donor engagement coordinator at Thompson. "We love that we were able to create a doughnut that is special to us and just for us here at Thompson."
Participating locations include:
###
About Thompson
Headquartered in Matthews, North Carolina (Mecklenburg County), Thompson Child & Family Focus is a human services leader transforming lives through early childhood, family stability, and mental health services. As a solutions-driven organization committed to rewriting narratives for the most vulnerable; Thompson achieves this by providing comprehensive, evidence-based services, and trauma-informed care, for children (ages 0-18) and their families, virtually and in-person. Thompson employs over 300 staff in NC and FL, and is led by President/CEO, Will Jones. To read more about Thompson's continuum of services online, go to thompsoncff.org, or email news@thompsoncff.org.
About Duck Donuts
Duck Donuts opened its first locations in 2007 in the beach resort towns of Duck and Kitty Hawk, North Carolina with the intention to create an oasis for vacationers to enjoy warm, delicious, made-to-order donuts. Headquartered in Mechanicsburg, Pennsylvania, the company began franchising in 2013, and prides itself on sprinkling happiness to its guests through its unique in-store experience, exceptional guest service and a duckzillion donut combinations. As one of the fastest-growing donut franchise companies, Duck Donuts has more than 100 locally owned and operated shops across 21 states and international locations in Dubai, UAE and Riyadh, KSA. For more information, visit www.duckdonuts.com, or contact LaToya Evans at latoya@latoyasevans.com, or Dana Sidberry at dana@latoyasevans.com.
.