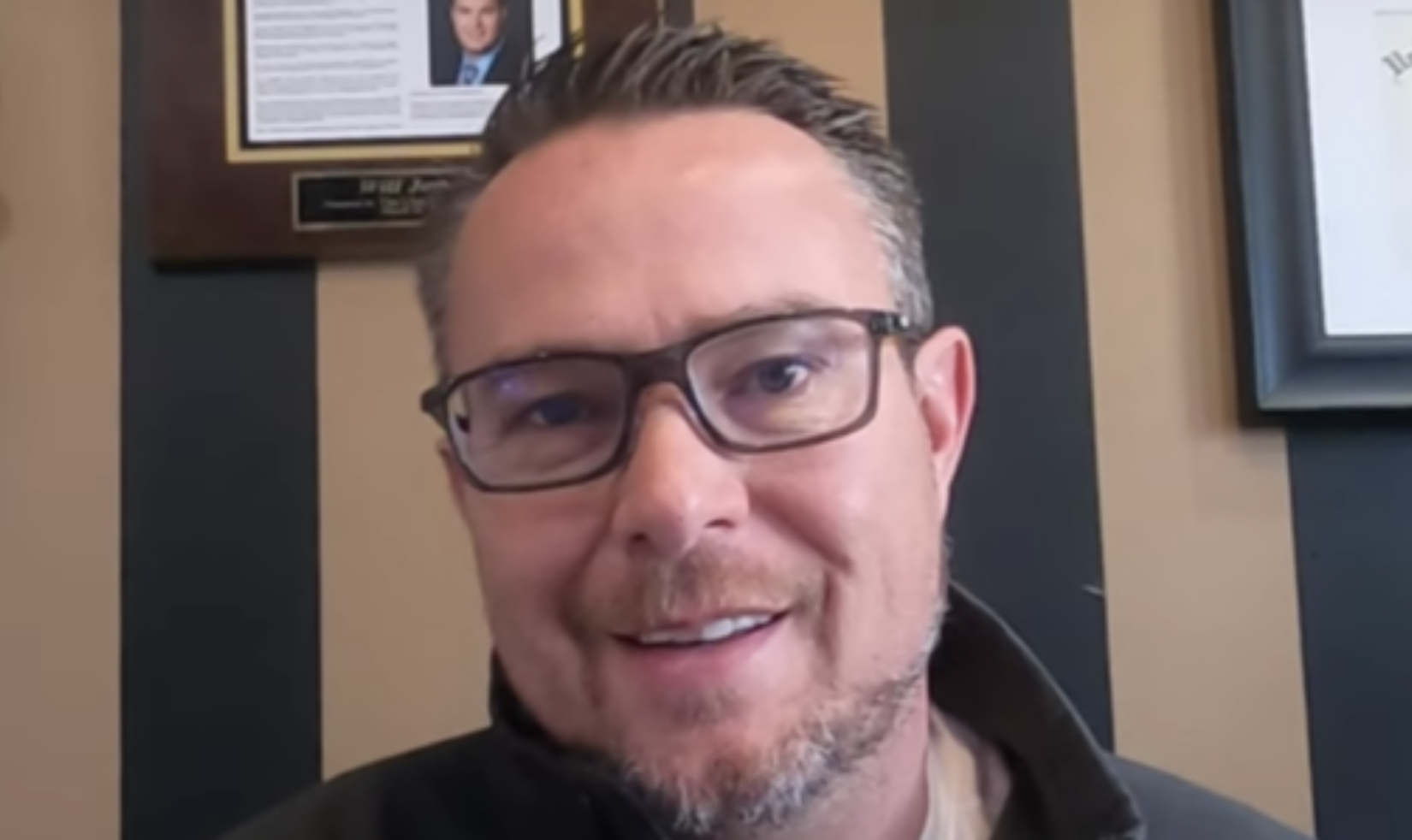 COVID Update from our CEO
CHARLOTTE, NC – 6.17.2020
I have never been prouder to call this city and this state home, than I am today. In this time – a moment where the entire world is collectively holding its breath as it stares into the void of the unknown – it could be so easy for us all to back away in fear. Three years ago, when I became the President/CEO of Thompson Child & Family Focus (Thompson), I could have never predicted the situation we find ourselves in, nor the earth-shattering support that this community has offered to us in our time of greatest need. There are no better nor more meaningful words to say, besides Thank You.
I have spent the last three years taking every opportunity to speak to the vast issues that lead to the thousands of children and families in our communities that require the life-saving support provided by Thompson. Our team of over 290 stands in the gap for over 5,000 children each year, and our programs impact thousands more. So much of what we do is challenging…so we encourage our communities and cities to stand up with us and change the narrative of life failure that is weighing down those that are the most vulnerable and the most at-risk. All of this was before COVID-19.
Three months ago, our lives all changed. For something so massive to move so quickly, I cannot imagine that there is a single person that has not been affected by this in some significant way. I remember watching as day by day, seemingly hour by hour, as things materialized from marginally significant to world changing. I was so certain that this would only compound for so many in need, and that we HAD to pivot to the impending needs of our community. That is where you stepped in. I am proud to say, that in the weeks and months since this reality hit us, Thompson has not only been able to keep each and every program operational, but we have actually been able to step into the lives of more severely affected children and families than ever before.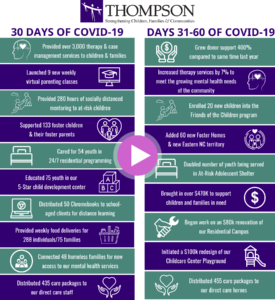 We have made partners and friends with individuals, families, companies and organizations that we have never collaborated with before and have found hope and light in those that have committed to stand with us in deeper and larger ways. PNC Bank. Brighthouse Financial. Providence Foundation. Wells Fargo Bank. Bank of America. Merancas Foundation. Technocom Business Systems. Frontier Capital. Amazon Fulfillment. Ally Financial Inc. The Core Training. Avid Xchange. Moore & Van Allen, PLLC. Graystone Consulting. Marsh & McLennan Agency LLC. Charlotte Knights Foundation. Wells Fargo Championship. Truist Bank.
These are just some of the organizations, made up of wonderful people, that made an impact during this time. There were also thousands of individuals that call Charlotte and North Carolina home. Our neighbors, friends, family, parents, siblings, children. You responded to a call to action and gave graciously and generously. Each of you deserve to be spoken by name.
In these last three months, you have all walked into the lives of over 5,000 of our own that did not know the levels of trauma that were about to befall them. You took the challenge we presented, and you ran the race, without ever being able to see one person you were impacting. You have saved lives and changed life narratives from your own living rooms. From the deepest core of who we are, Thompson thanks you. I thank you.
I wouldn't be who I am without calling attention to the absolute dire need for our community to pivot during this time of need. We have worked tremendously hard to position Thompson to be able to ask early and often in this pandemic. We built a business plan that had the foundation and leadership in place to transform the day-to-day operations without threatening the fiscal or physical future of the organization.
Considering the tremendous response to the outcry of need, I want to leave you with another challenge. As you walk into the next three months – as more things change – as we struggle with what can and cannot ever go back to "normal," I want you to consider what you expect out of the community that serves those in need. Think about the dollars you give to help those in need. Reframe the idea of 'charity.' Don't look upon Thompson as a 'charity' – view us as we view ourselves – as a human services provider that utilizes philanthropic dollars as investments. Every single dollar raised was invested in the clients we serve, invested in the children and families who need a restart on becoming resilient.
Our organization began investing your contributions before COVID-19 and will continue once we have an 'after'. Help me and other organizations like Thompson that are building a better philanthropic community. We have been given a tremendous responsibility. We have raised more money and garnered more supported in three months, than we normally do in eight. I do not take that lightly, nor should you. We need to invest our communities now more than ever as we begin to rebuild what we lost and what we may still lose. Challenge us to build a better business model. Expect more out of leadership, the same way more is expected out of you. When you find a place that does it right, lean in all the way.
Let my thank you be the beginning of a philanthropic revolution here in Charlotte. Let's have the Queen City's crown shine like it never has before. I believe in you; you've done it before. Yours in strengthening children & families.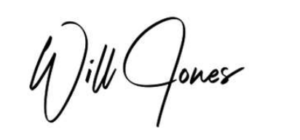 Will Jones President/CEO Thompson Child & Family Focus
###
About Thompson
Headquartered in Matthews, North Carolina (Mecklenburg County), Thompson Child & Family Focus is a human services leader transforming lives through early childhood, family stability, and mental health services. As a solutions-driven organization committed to rewriting narratives for the most vulnerable; Thompson achieves this by providing comprehensive, evidence-based services, and trauma-informed care, for children (ages 0-18) and their families, virtually and in-person. Thompson employs over 300 staff in NC and FL, and is led by President/CEO, Will Jones.  To read more about Thompson's continuum of services online, go to thompsoncff.org, or email news@thompsoncff.org.